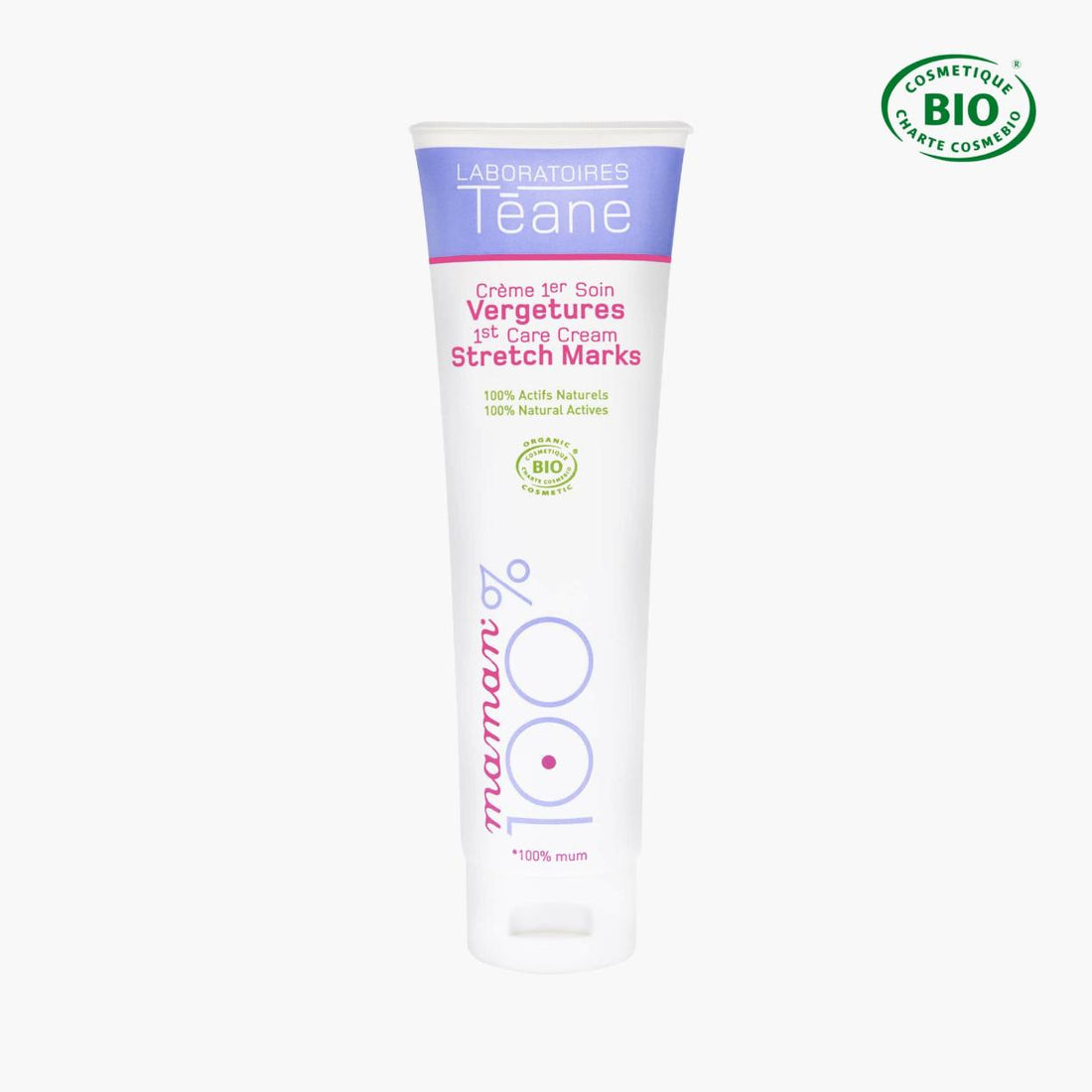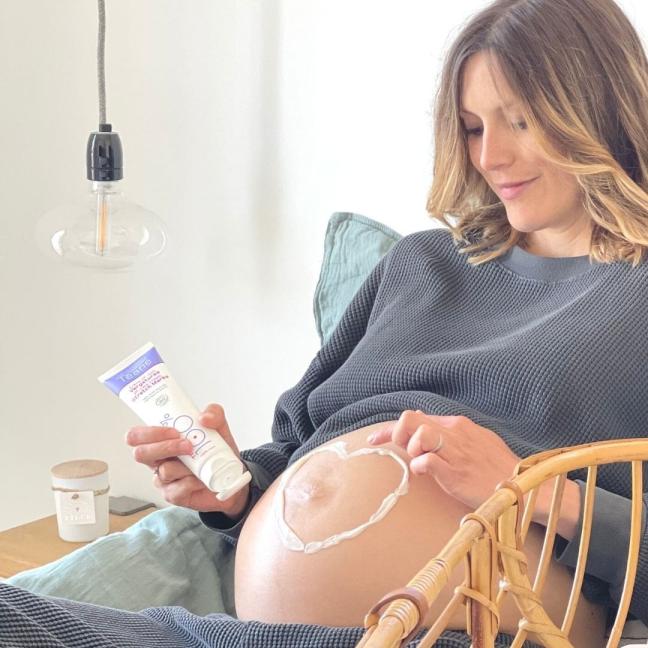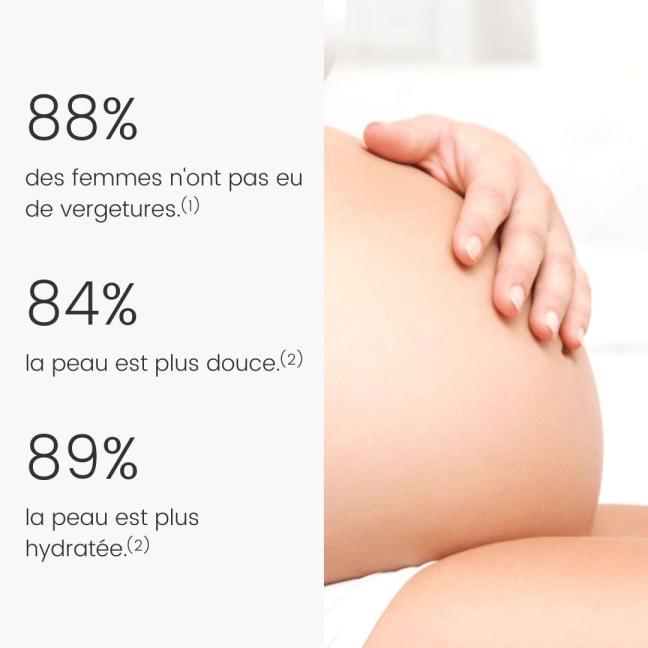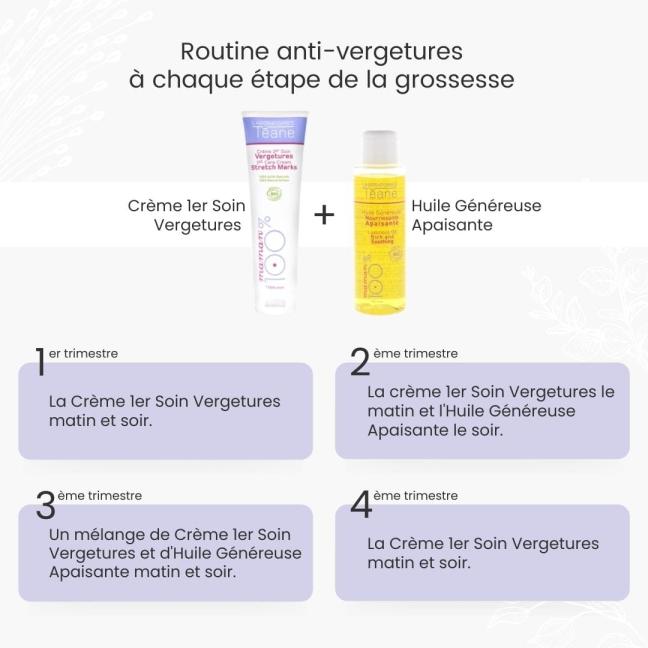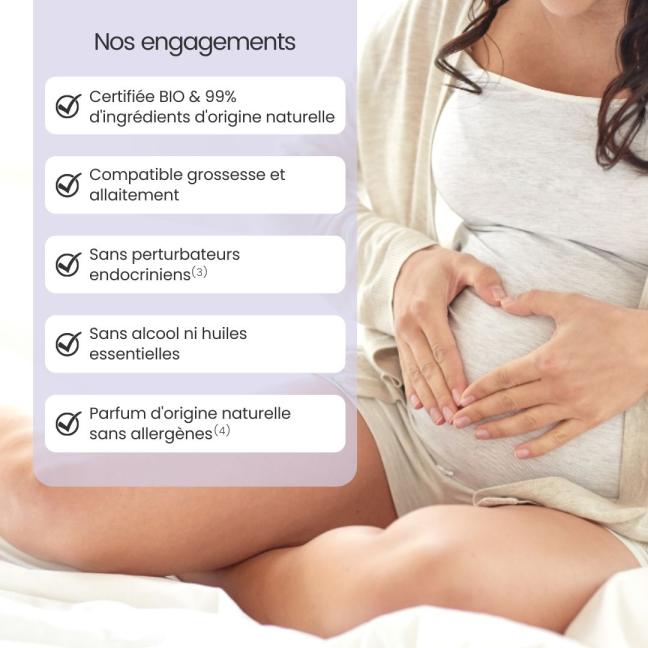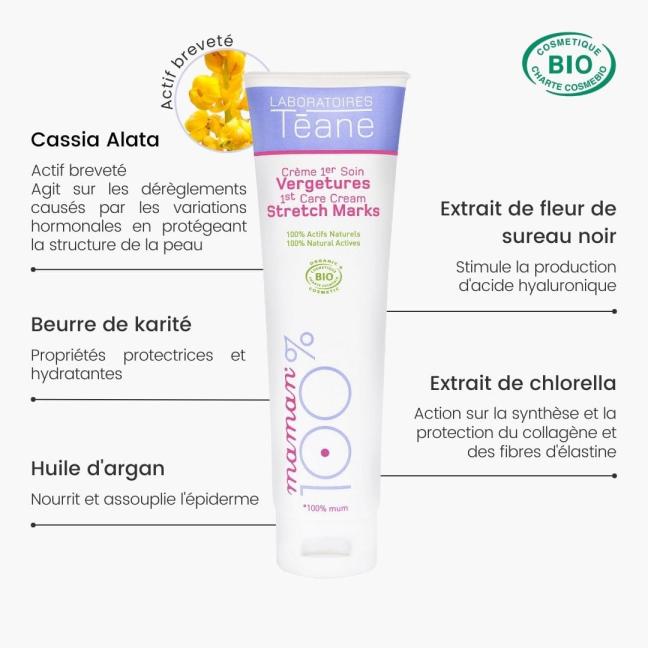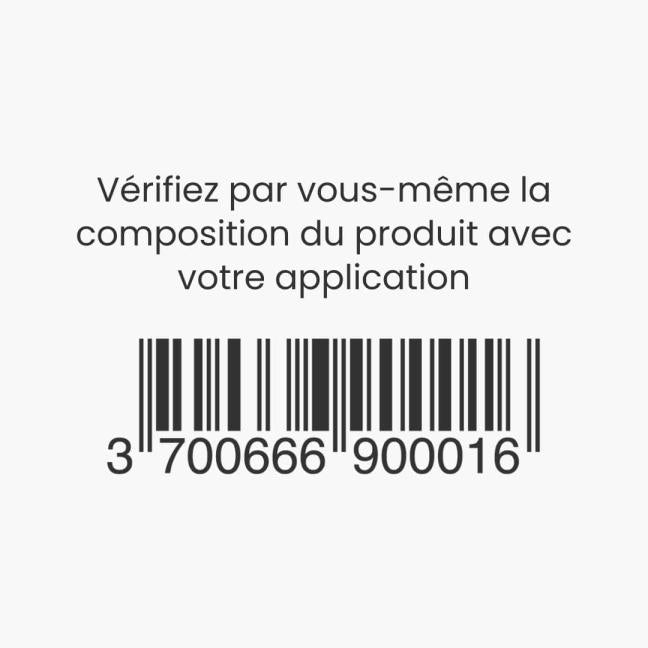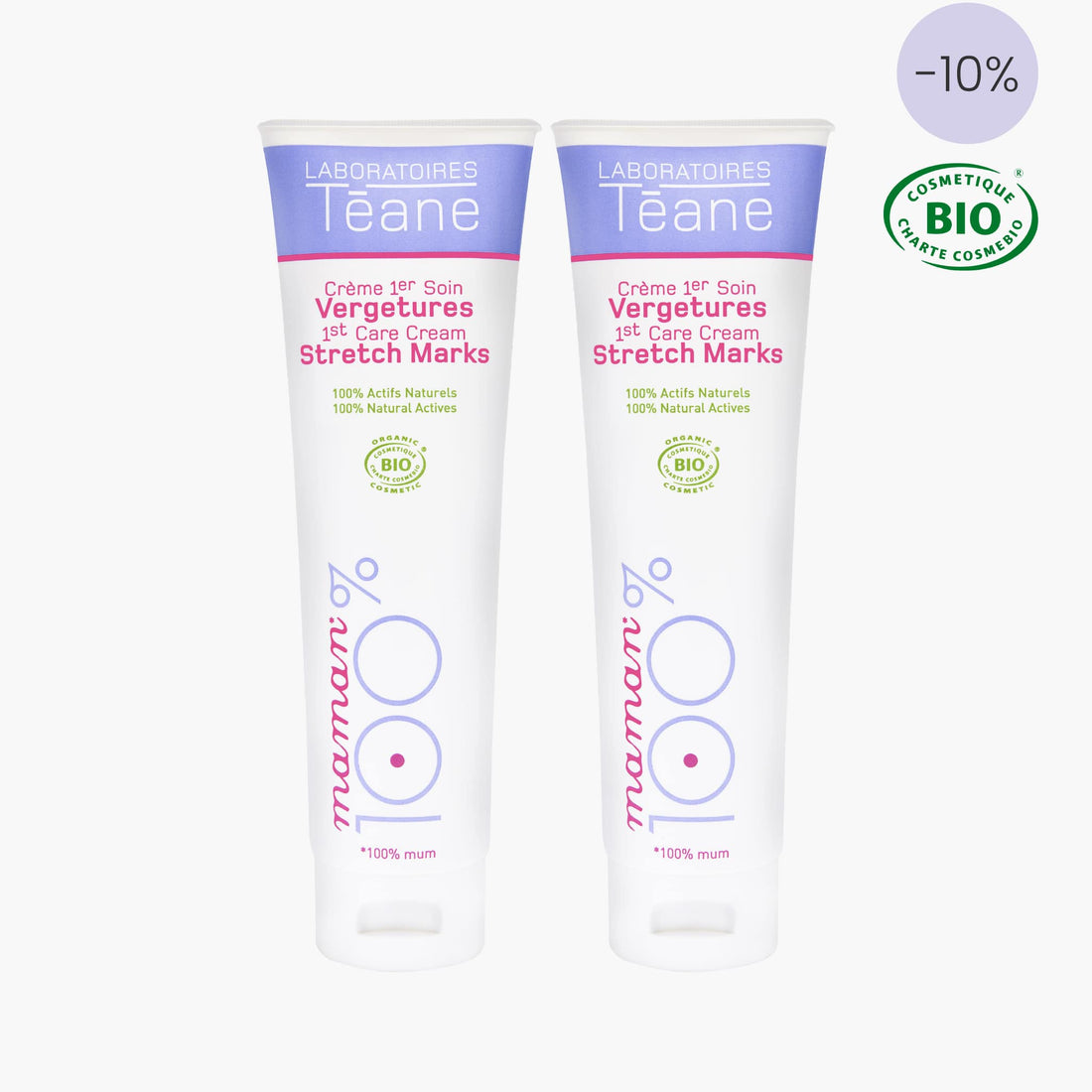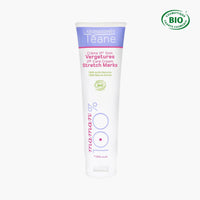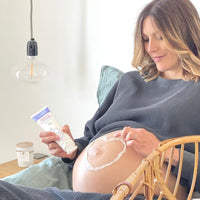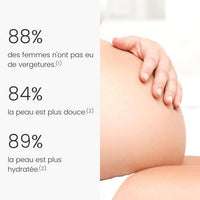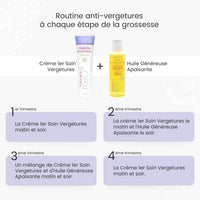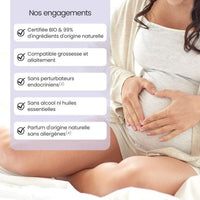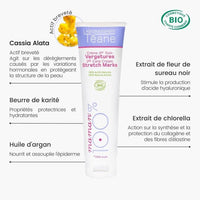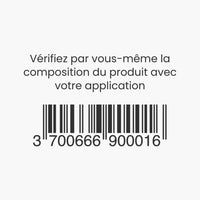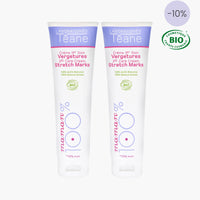 1st Care Stretch Marks Cream
27,60€
27,60€
Sale

• Save
The 1st Stretch Mark Care Cream is a certified organic anti-stretch mark care concentrated in natural and patented active ingredients to effectively and naturally prevent stretch marks during pregnancy.
The essential care for the beginning of pregnancy, for all skin types. Early in your pregnancy, you are still active and the changes in your body seem unimportant, maybe even imperceptible). However, although you do not notice it, the process that generates stretch marks has already begun.
While stretch marks are often the result of a mechanical strain, stretching is not the only cause for these tiny breaks in the elastin fibres. Stretch marks scars are generally induced by a disrupted skin cell system.
That is why it is essential to help your skin resist before having the bad surprise to discover a nasty stretch mark. With your maternity leave still far, you have only little time to devote to your body care. That's why we have designed a texture with high speed penetration, for a maximum time/efficicnecy ratio. By the time you've applied it, it is already forgotten !
● Acts on skin disorders related to hormonal variations ● Protects the elastin fibers
● Increases the production of collagen
● Hydrates the skin
From the 1st trimester until several weeks after delivery.
Find the advice of use below.
● Patented Cassia Alata extract ● Chlorella extract ● Organic Black Elder flower extract ● Organic Argan oil ● Organic jojoba oil ● Organic Shea Butter
Certified organic care by ECOCERT
99% of ingredients of natural origin
Compatible with pregnancy and breastfeeding
No endocrine disruptors (3)
Contains no alcohol, no essential oils
Natural fragrance without allergens (4)
Products made in France

(3) The product is formulated without endocrine disruptors or substances suspected of being endocrine disruptors, recognized as carcinogenic, mutagenic or toxic.
(4) The product does not contain any allergens listed among the 26 allergenic substances of Annex III of the Cosmetic Regulation 1223/2009.
Shipping costs* :
- 3,99€ in relai point
- from 4,99€ at home
- Free from 55€ of purchase
* In Metropolitan France
Shipping :
48 hours from Monday to Friday
Return possible within 14 days after receipt of the order
Read more
ANTI-STRETCH MARK RITUAL WITH THE
How to use the Stretch Mark 1st Cream?
As part of our anti-stretch mark ritual, complete the 1st Stretch Mark Cream with the soothing Generous Oil.
The anti-stretch mark routine evolves with each stage of pregnancy:
1st trimester : apply the Stretch Mark 1st Care Cream in the morning and evening

2nd trimester : apply the Stretch Mark 1st Aid Cream in the morning and the Generous Soothing Oil in the evening

3rd trimester : mix the Stretch Mark 1st Aid Cream with a few drops of Generous Soothing Oil in the evening

After childbirth : continue to apply the Stretch Mark 1st Aid Cream for a few days (or weeks if you are breastfeeding).

The Stretch Mark 1st Aid Cream and Generous Soothing Oil are available in the Stretch Mark Prevention Program.
Dosage : a dab of cream
When : from the first trimester
Areas of application : stomach, hips, lower back, chest, buttocks, upper thighs...
Skin type : all skin types
Compatibility : from the 1st month of pregnancy and during breastfeeding
Texture : non-sticky cream
Odor : light perfume
Developed for Téane Laboratories for a fragrance without allergens
Contra-indications : do not apply on a recent caesarean scar. Before feeding, be sure to clean your nipples beforehand.
On répond à vos questions
As soon as possible... the hormonal upheavals responsible for the appearance of stretch marks start at the beginning of your pregnancy. Hormonal changes weaken and disorganize the structure of your skin. This is why the skin cracks as soon as the skin is very stretched in the third trimester. By protecting your skin from the beginning and throughout your pregnancy with specific anti-stretch mark treatments, your skin will be ready for the stretching it will undergo.
Both... but always specific anti-stretch mark care! To effectively prevent stretch marks, we recommend combining the Stretch Mark 1st Care Cream and the Soothing Generous Oil. The Stretch Mark 1st Care Cream is the flagship product for preventing stretch marks because it contains our patented Cassia Alata extract which will protect the skin from the effects of hormonal changes.
The Generous Soothing Oil completes the benefits of the 1st Stretch Mark Cream by bringing comfort and elasticity to the skin. You can find these two products in our Stretch Mark Prevention Program.
Unfortunately not... During pregnancy, your skin undergoes many changes due to hormonal variations. Your skin's needs during pregnancy are different, so it needs specific anti-stretch mark products. A moisturizing cream or a virgin oil will simply bring comfort by moisturizing and nourishing the skin but will not be enough.
Exceptional for your skin... Laboratoires Téane discovered this plant in Madagascar. Midwives and pregnant women use it in an ancestral way during pregnancy to avoid the appearance of stretch marks. This plant is able to inhibit the transformation of fibroblasts into myofibroblasts, a consequence of hormonal variations, and thus effectively prevent the appearance of stretch marks. This discovery is unique and patented by Téane Laboratories.
Nous vous conseilons d'appliquer cette crème vergeture pour la grossesse en massage sur les zones de la peau sujettes aux vergetures : le ventre, la poitrine, les cuisses, les hanches, les fesses... Nos soins sont compatibles avec la grossesse et l'allaitement.
Ingredients and their benefits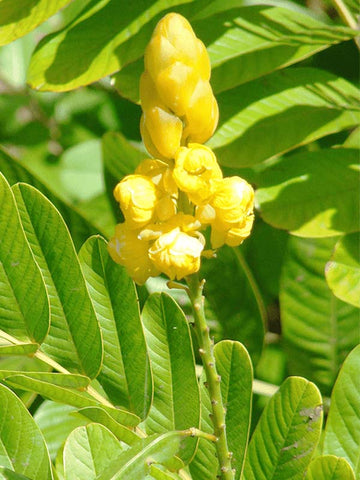 Anti-stretch marks
Cassia Alata is a plant that has been used for generations by Malagasy pregnant women to fight stretch marks. Téane Laboratories have patented the active ingredients extracted from this plant. These active ingredients act on the prevention of stretch marks, on the balance of the skin structure and on the healing of stretch marks.
Collagen synthesis and elastin fiber protection
Black elderberry flower stimulates the skin's production of hyaluronic acid to promote hydration and regeneration.
Chlorella extract is composed of 60% plant proteins, enzymes, vitamins (A, B, C and E), unsaturated essential fatty acids, minerals (iron, calcium, magnesium, zinc, potassium, sulfur, manganese).
Nourishes and moisturizes the skin
Argan oil is rich in vitamin E and unsaponifiables. It is known for its nourishing and regenerating properties on the epidermis. It is packed with essential fatty acids (Omega-3, Omega-6), antioxidants recommended to prevent premature skin dryness.
Organic shea butter has protective and moisturizing properties.
Jojoba oil contains ceramides and vitamin E (antioxidant and anti-free radical). Its benefits have long been known. In addition to its moisturizing properties, it improves the elasticity of the skin.
Sunflower oil is rich in oleic acid, which gives it restorative power. It also contains tocopherol, which holds vitamin E activity, making it an important source of vitamin E. It is the most powerful extra-cellular antioxidant agent. In addition, this oil has softening, anti-dehydrating and nourishing properties.
INCI list
AQUA (WATER),HELIANTHUS ANNUUS (SUNFLOWER) SEED OIL,GLYCERIN,COCO-CAPRYLATE/CAPRATE,ZEA MAYS (CORN) STARCH*,CETEARYL ALCOHOL,SIMMONDSIA CHINENSIS (JOJOBA) SEED OIL*,ARGANIA SPINOSA KERNEL OIL*,BUTYROSPERMUM PARKII (SHEA) BUTTER*,PARFUM (FRAGRANCE),CASSIA ALATA LEAF EXTRACT,CHLORELLA VULGARIS EXTRACT,SAMBUCUS NIGRA FLOWER EXTRACT*,CETEARYL GLUCOSIDE,DIPALMITOYL HYDROXYPROLINE,SODIUM PCA,POTASSIUM SORBATE,XANTHAN GUM,PALMITIC ACID,TOCOPHEROL,CITRIC ACID,MALTODEXTRIN,PHYTIC ACID,SODIUM HYDROXIDE.
* Ingredients from Organic Agriculture

99% of the total ingredients are of natural origin.
24% of the total ingredients are from Organic Agriculture.
Ecological and Organic Cosmetics certified by ECOCERT Greenlife according to the ECOCERT standard available oncosmetiques.ecocert.com.

INCI list decrypted
AQUA (WATER) : Purified water
HELIANTHUS ANNUUS (SUNFLOWER) : sunflower oil
GLYCERIN : glycerin
COCO-CAPRYLATE/CAPRATE : esterified oil
ZEA MAYS (CORN) STARCH : corn powder
CETEARYL ALCOHOL : fatty alcohol (emollient)
SIMMONDSIA CHINENSIS (JOJOBA) SEED OIL : jojoba oil
ARGANIA SPINOSA KERNEL OIL : argan oil
BUTYROSPERMUM PARKII (SHEA) BUTTER : shea butter
PARFUM (FRAGRANCE) : natural fragrance
CASSIA ALATA LEAF EXTRACT: patented extract of Cassia Alata
CHLORELLA VULGARIS EXTRACT: green algae extract
SAMBUCUS NIGRA FLOWER EXTRACT: elderberry extract
CETEARYL GLUCOSIDE : sugar emulsifier
DIPALMITOYL HYDROXYPROLINE : skin maintenance agent and elastin protector
SODIUM PCA: humectant
POTASSIUM SORBATE: preservative
XANTHAN GUM : binding agent
PALMITIC ACID : texturizing agent
TOCOPHEROL : antioxidant
CITRIC ACID : pH regulator
MALTODEXTRIN : excipient for active agents (maltose)
PHYTIC ACID : complexing agent
SODIUM HYDROXIDE : pH regulator