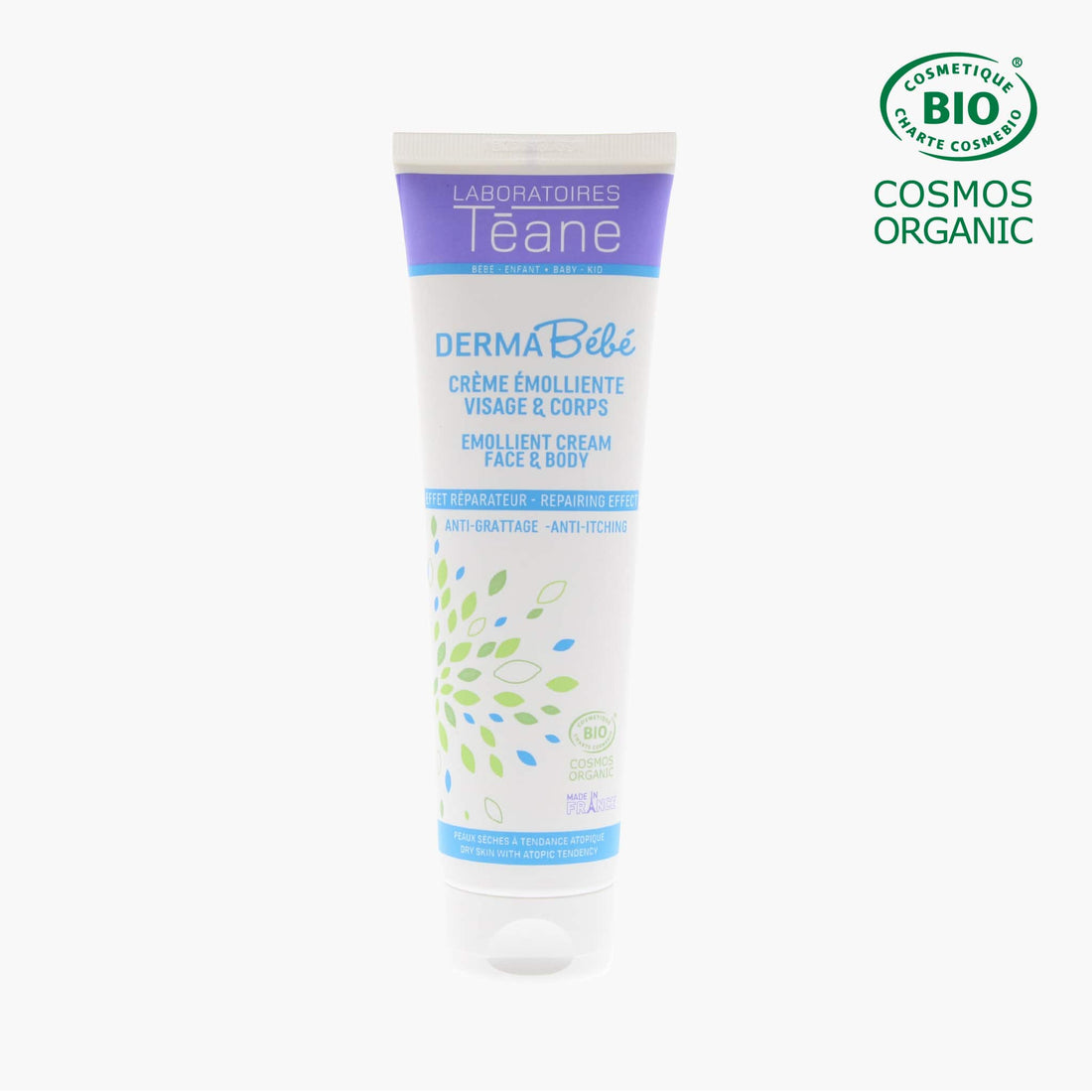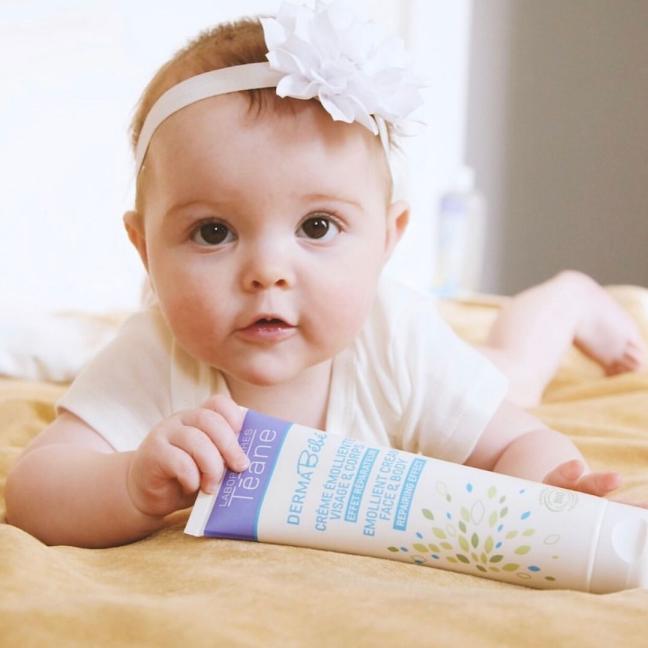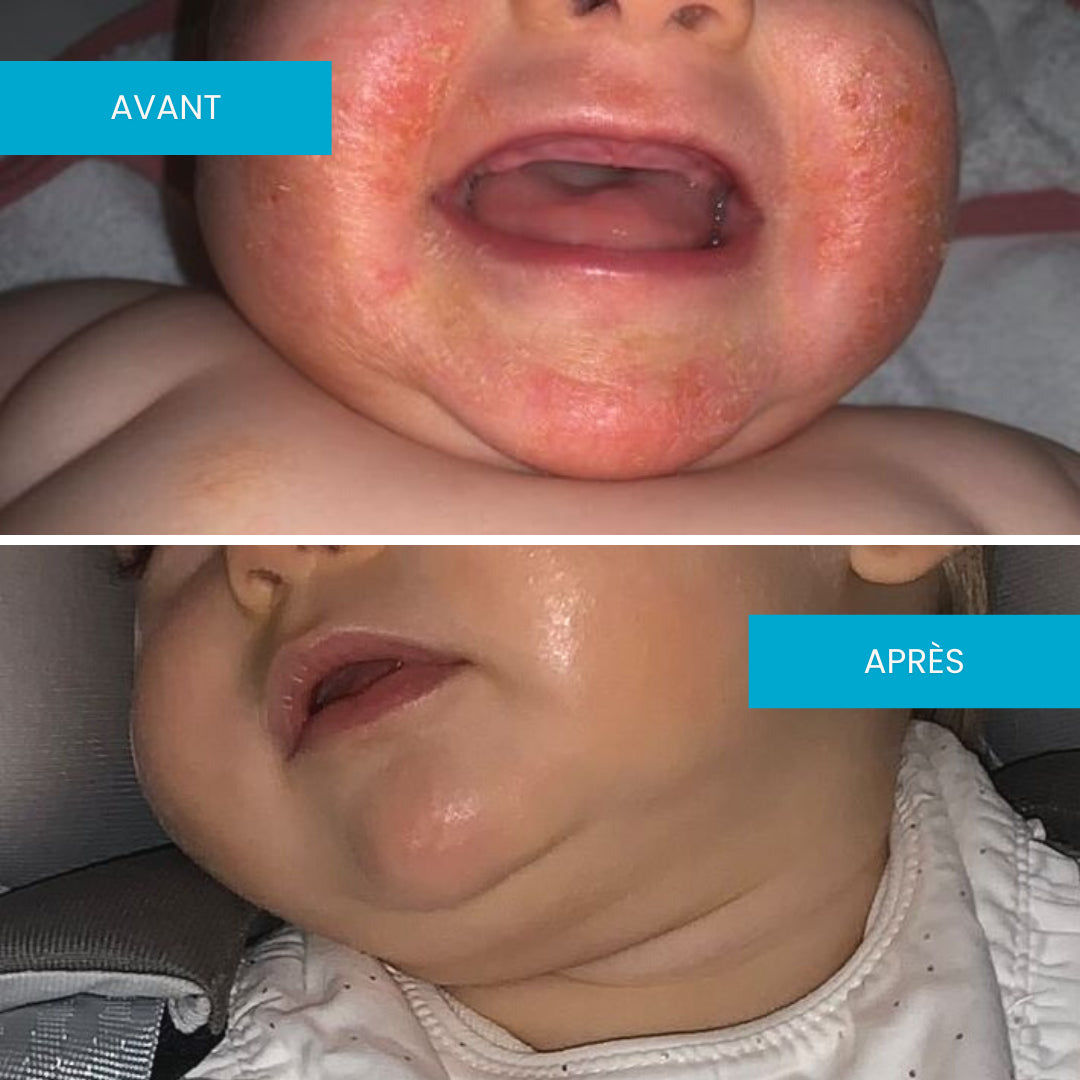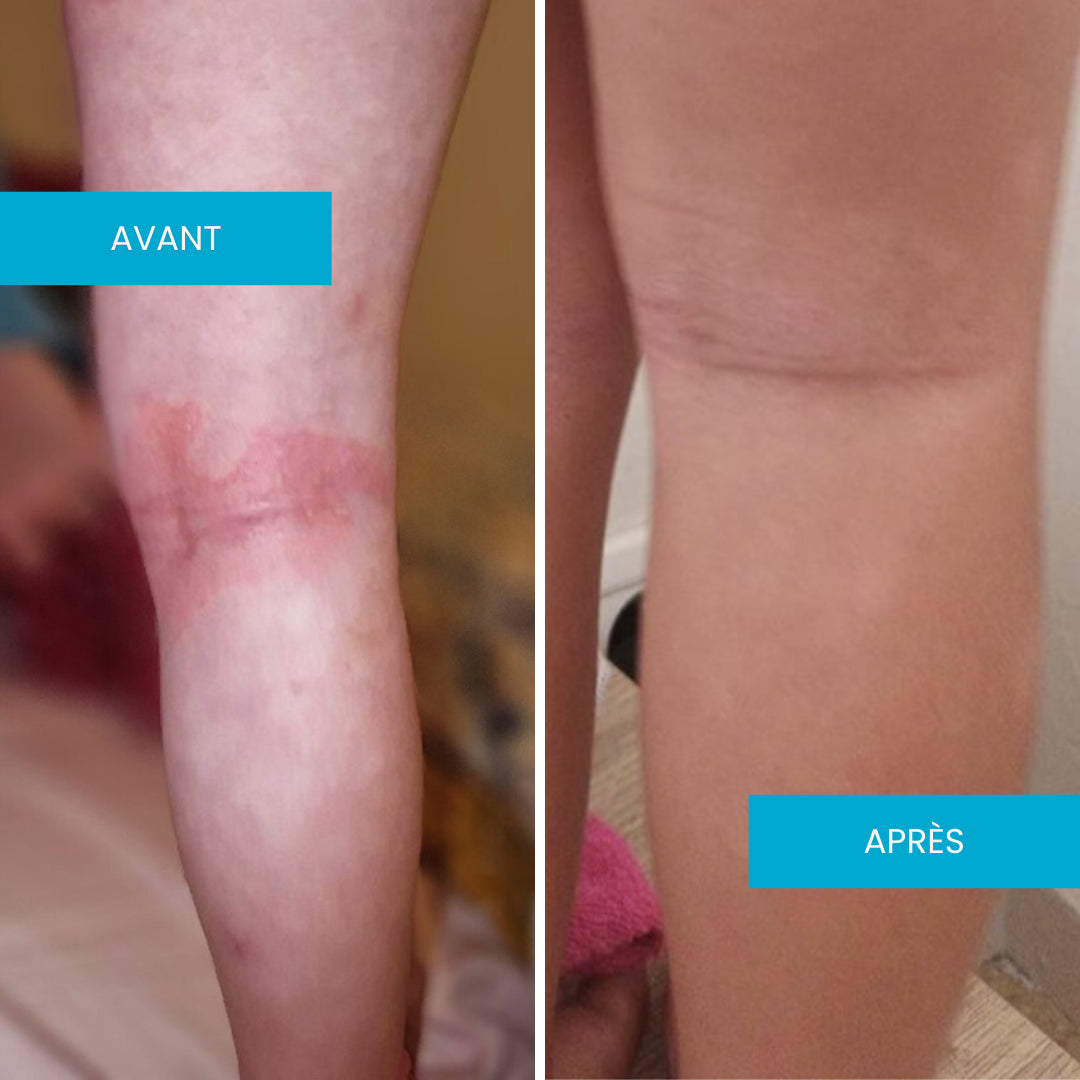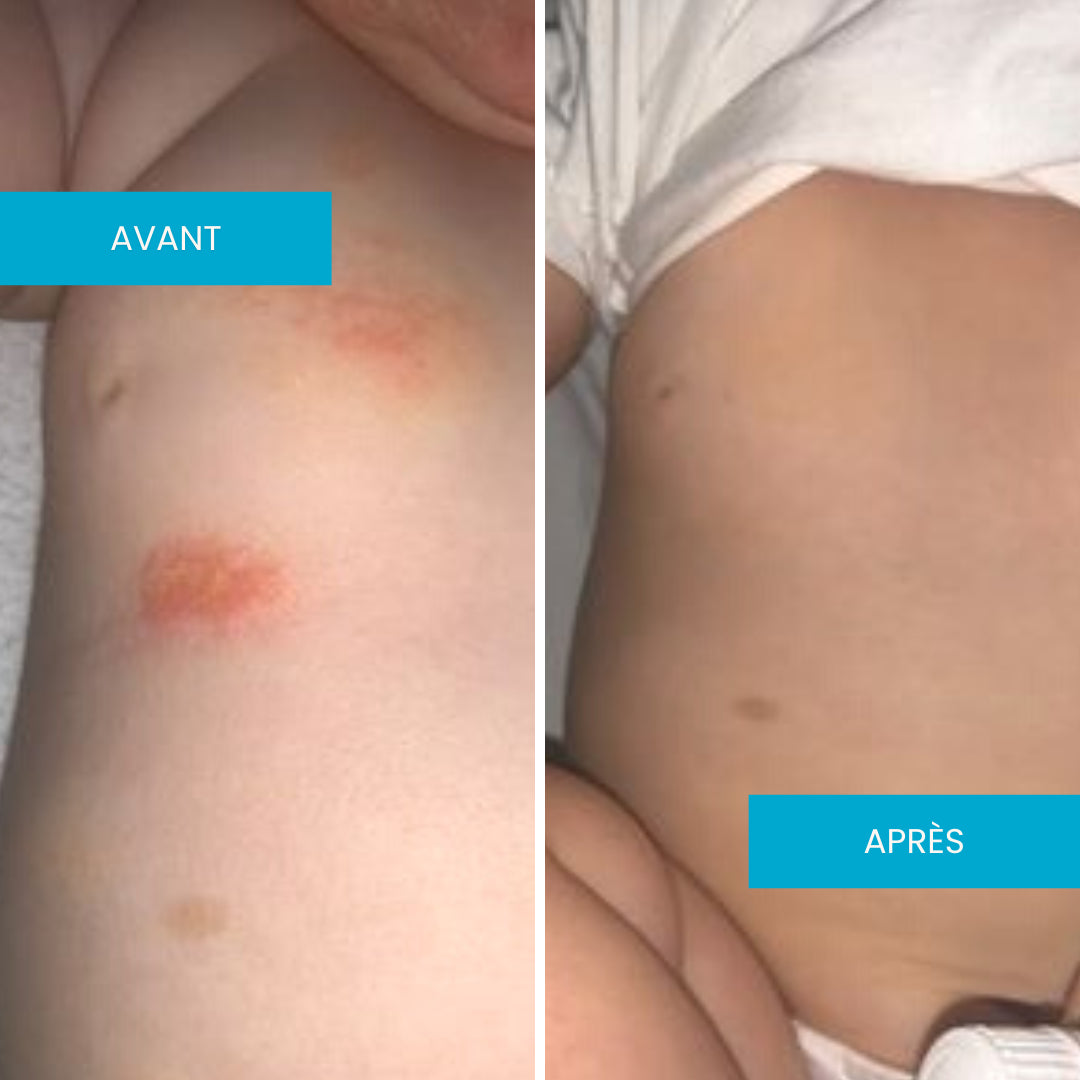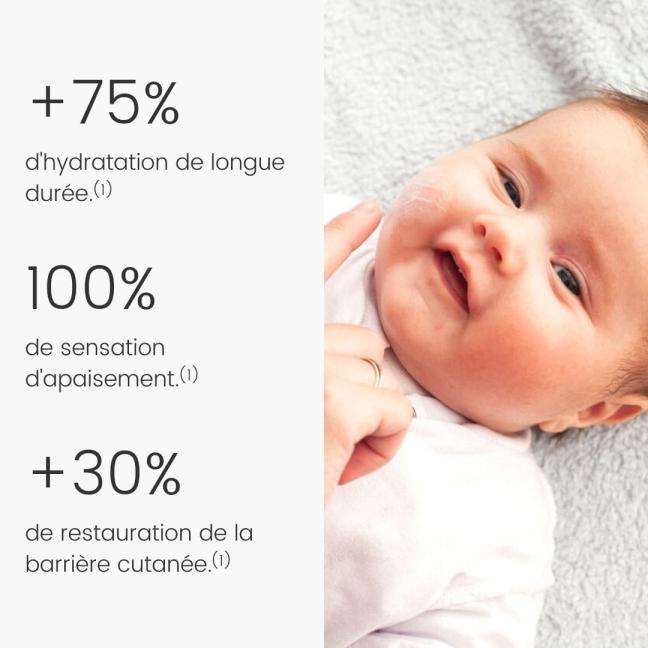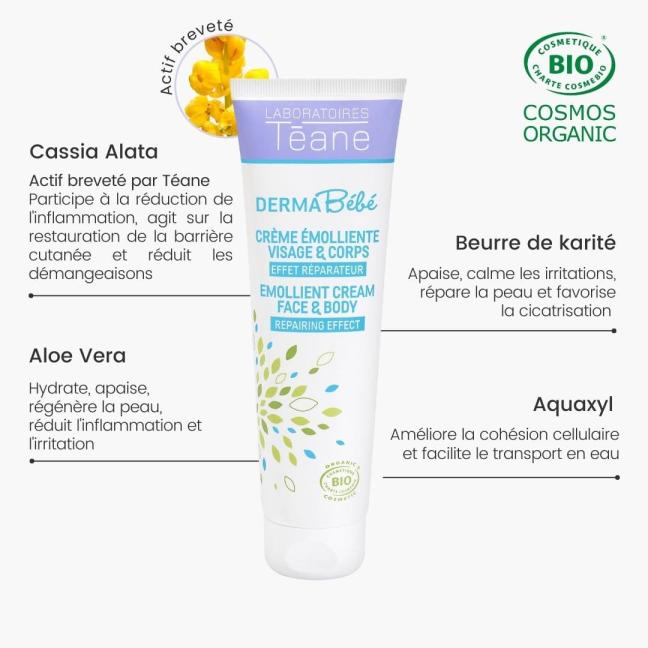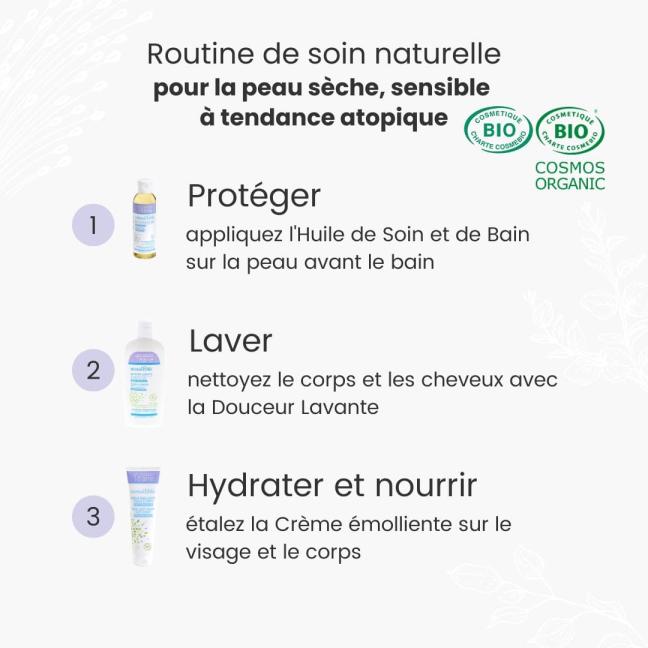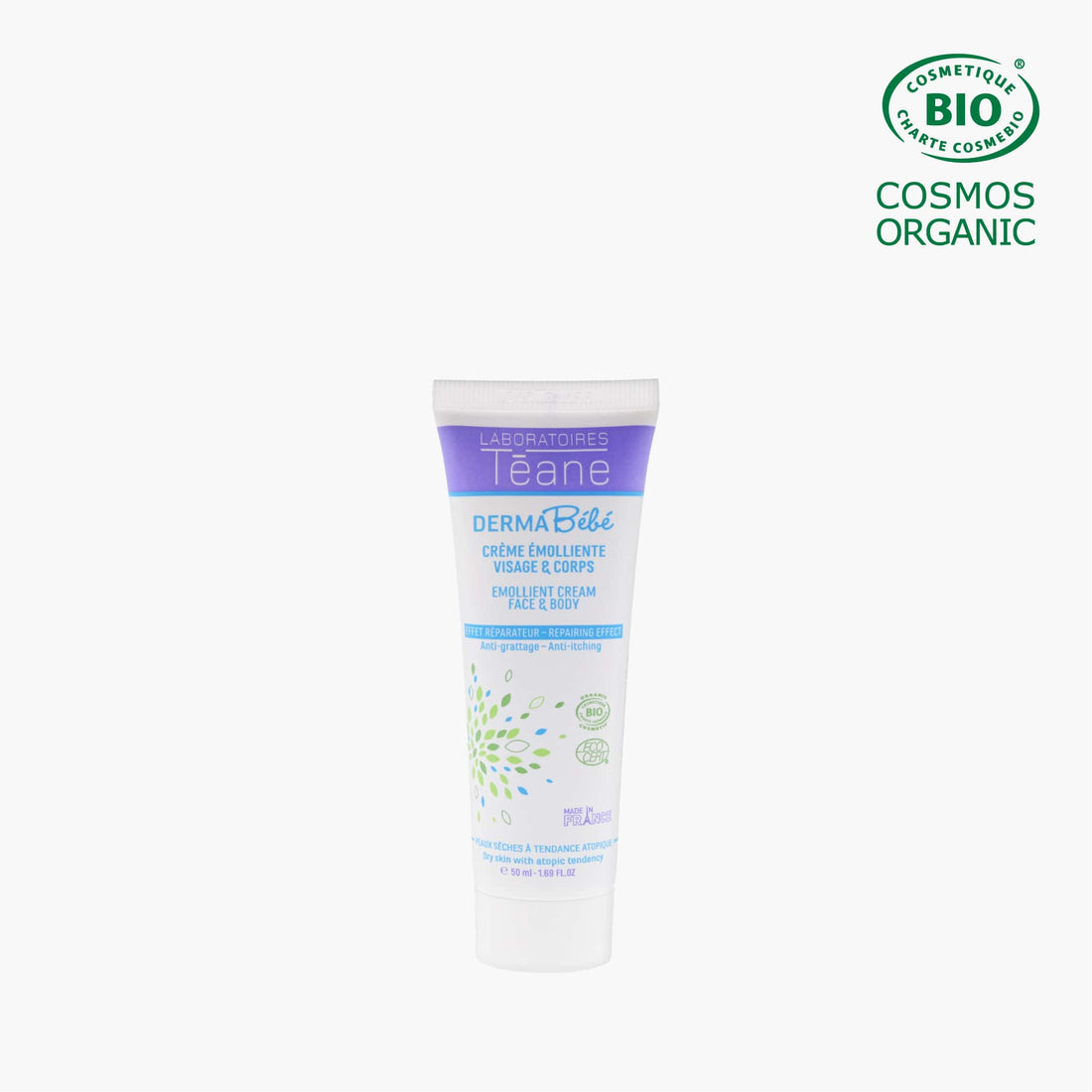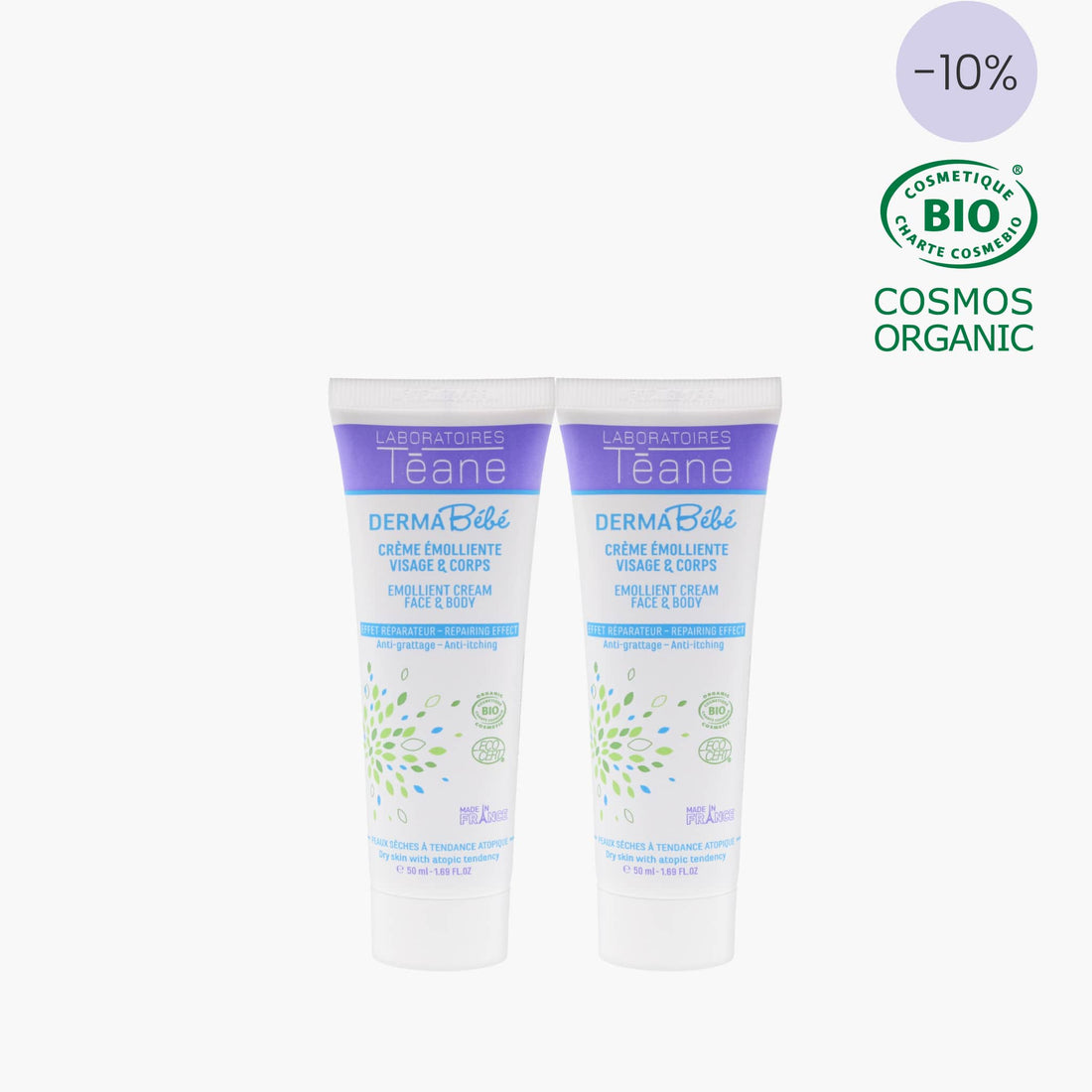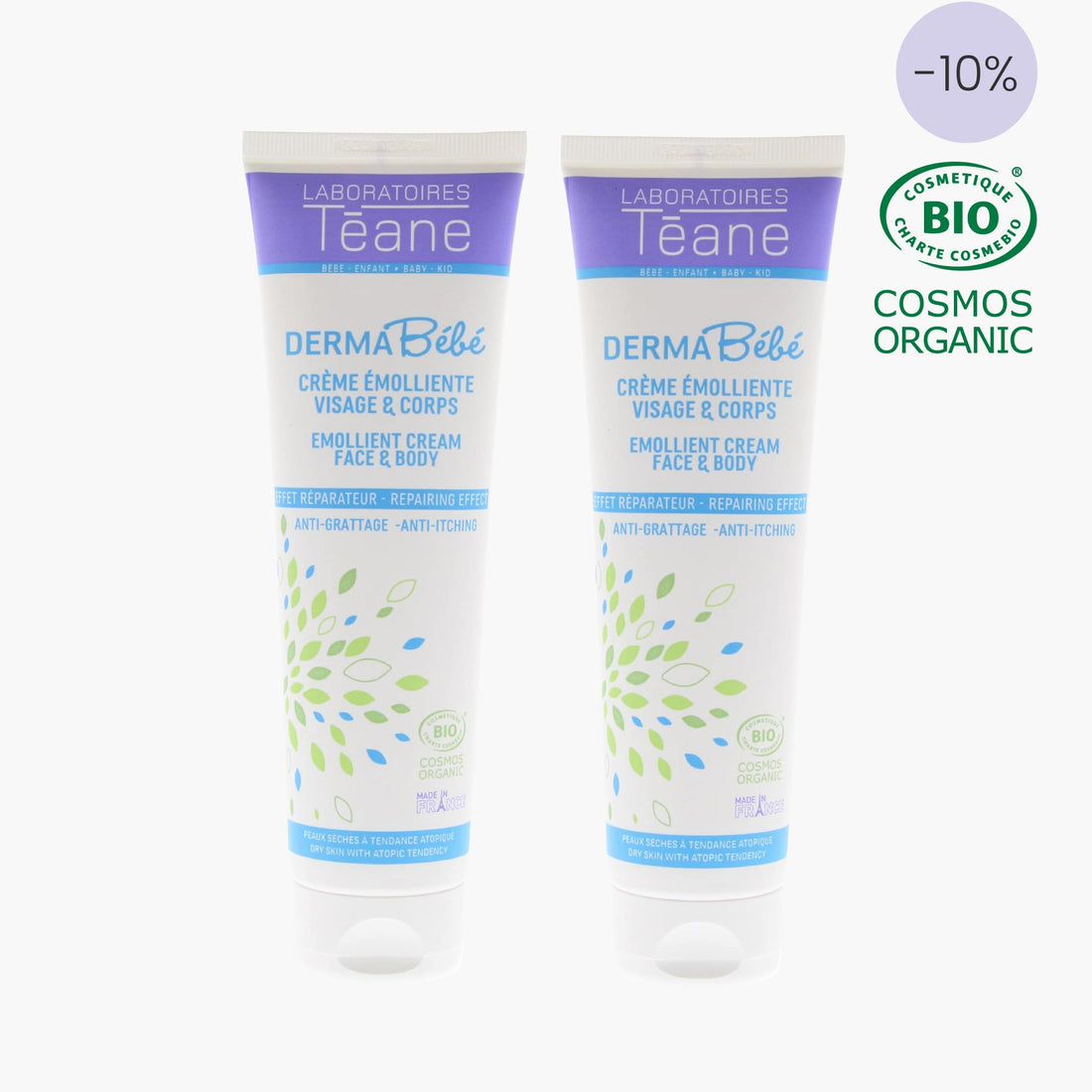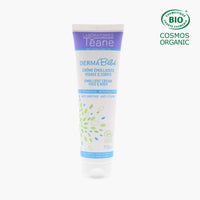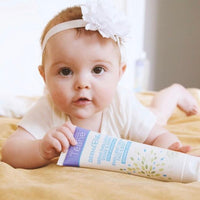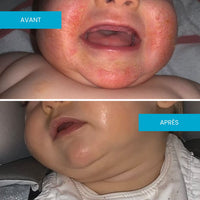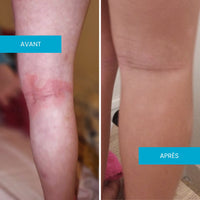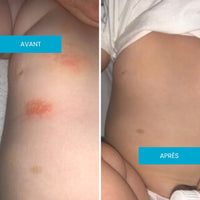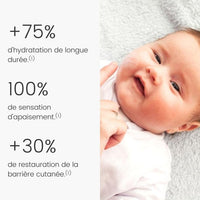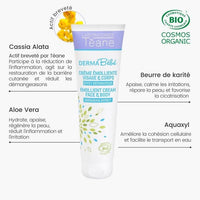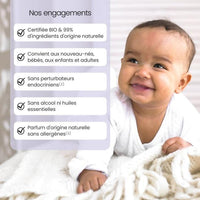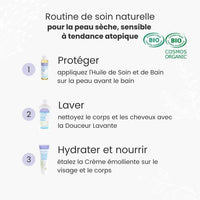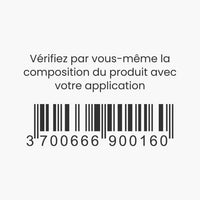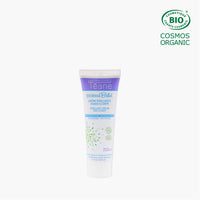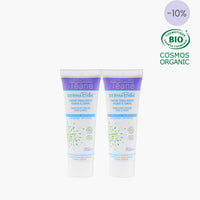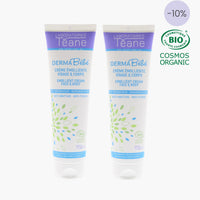 Emollient cream certified organic
17,70€
17,70€
Sale

• Save
Certified Organic Emollient Cream combines naturalness and effectiveness to treat and relieve atopic eczema in babies and children. This cream is formulated with a patented active ingredient with clinically proven effectiveness: Cassia Alata. It hydrates the skin, repairs and reinforces the cutaneous barrier. This cream soothes from the 1st application by reducing redness and itching.
Atopic eczema is a chronic inflammatory skin disease. It manifests itself by dry, red patches and sensations of discomfort (itching, tingling...). To soothe and treat atopic eczema in the long term, the skin barrier must be restored and strengthened.
More than a moisturizing cream, the Emollient Cream acts on the causes by reinforcing the cutaneous barrier. It contains our flagship ingredient, Cassia Alata extract, which we have patented to treat the cause and relieve skin prone to atopic eczema. This extract participates in the repair of the skin structure and has demonstrated an anti-scratch action. This cream is also enriched with organic shea butter, organic mallow extract and sunflower oil.
● Relieves dry skin with a tendency to atopic eczema
● Repairs and strengthens the skin barrier
● Anti-itching, anti-redness and anti-scratching
● Acts in prevention and space the eczematous pushes
For babies, children and adults with dry, sensitive skin prone to atopic eczema.
From birth.
Laboratoires Téane discovered a plant in Madagascar: Cassia Alata. After years of Research & Development, Téane Laboratories have patented its active ingredients for its exceptional virtues on dry skin with atopic tendency.

The Emollient Cream also contains active ingredients with benefits on dry skin with atopic tendency such as:
● Organic shea butter
● Extract of mallow bio
● Sunflower oil
● Aquaxyl
Certified organic care by ECOCERT
99% of ingredients of natural origin
High tolerance formula
No endocrine disruptors (2)
Contains no alcohol, no essential oils
Natural fragrance without allergens (3)
Products made in France

(2) The product is formulated without endocrine disruptors or substances suspected of being endocrine disruptors, recognized as carcinogenic, mutagenic or toxic.
(3) The product does not contain any allergens listed among the 26 allergenic substances of Annex III of the Cosmetic Regulation 1223/2009.
Shipping costs* :
- 3,99€ in relai point
- from 4,99€ at home
- Free from 55€ of purchase
* In Metropolitan France
Shipping :
48 hours from Monday to Friday
Return possible within 14 days after receipt of the order
Read more
How to use the Emollient Cream?
Apply twice a day, focusing on dry areas or as often as needed. This cream should be applied daily to prevent future outbreaks. You can apply this emollient cream to the face and body. It can be used in addition to corticosteroid treatment.
Dosage: A dab of cream
When: Morning and evening
Areas of application : Face & body
Skin type : All skin types including dry, sensitive and eczematous skin
For : Newborn, baby, child, adult
Texture : Non-sticky cream
Odor: Light fragrance Developed for Laboratoires Téane for a fragrance without allergens

Contra-indications: Do not apply this product on oozing lesions. External use only. Avoid contact with eyes.
On répond à vos questions
Chez les personnes souffrant d'une peau sèche à tendance atopique, la peau ne joue pas son rôle de barrière. La peau est donc très perméable aux éléments extérieurs. La composition des soins que vous appliquez sur la peau doit être saine et naturelle. Mais aussi, il faut appliquer des crèmes spécifiques agissant sur l'eczéma de bébé et de l'enfant avec une efficacité prouvée. Difficile de trouver à la fois une crème eczéma naturelle et agissant aussi sur les manifestations cutanées de la peau sèche à tendance atopique (plaques rouges, démangeaisons,...). Après des années de Recherche & Développement, les Laboratoires Téane ont développé une crème alliant naturalité et efficacité : la crème émolliente visage & corps certifiée bio à l'efficacité cliniquement prouvée ! Car oui, la peau des bébés méritent les meilleurs soins.
Yes, it reduces redness and soothes scratching sensations.
The Cassia Alata extract, patented by Téane Laboratories, has been the subject of several years of Research & Development. Its effectiveness is clinically proven on :
- The repair of the cutaneous barrier
- The reduction of the rednesses
- The improvement of the comfort of life of the very dry skins with tendency to the atopic eczema
The Emollient Cream certified Bio was formulated specifically for the sensitive, dry skins with tendency to the atopic eczema. But it can also be suitable for "normal" skin.
No... we preferred to rely on active plant ingredients known for their benefits on very dry skin prone to atopic eczema, such as our patented cassia alata extract, mallow or shea butter. Corticoids relieve atopic skin but do not treat the cause and are not, for us, a long-term solution.
Of course! Emollient Cream is suitable for the whole family. For adults, we do not recommend the use of Emollient Cream on the face because it may be comedogenic.
The fragrance was developed specifically for Laboratoires Téane. It does not contain any allergens listed among the 26 allergenic substances in Annex III of Cosmetic Regulation 1223/200.
Ingredients and their benefits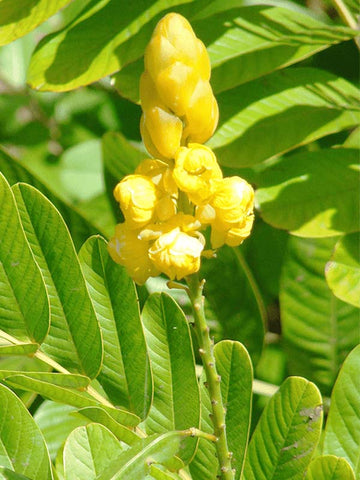 Strengthens and repairs the skin barrier
In traditional medicine, the leaves are used to relieve and treat skin problems like atopic skin. After years of Research & Development, Téane Laboratories use the active ingredients of this plant. Cassia Alata extract treats the cause of atopic skin by repairing and strengthening the skin barrier.
Hydrates, nourishes and retains water
Aquaxyl improves cell cohesion and facilitates water transport. It participates in the improvement of desquamation.
Sunflower oil helps maintain skin hydration by strengthening the skin's hydrolipidic film and retaining water.
Soothes and relieves irritation
In addition to nourishing and moisturizing the skin, shea butter calms and soothes irritations with its anti-inflammatory properties.
Mallow is one of the plants recommended to relieve sensitive skin with an atopic tendency. It is known for its emollient, moisturizing, softening and soothing properties.
Anti-redness and anti-itching
Patented Cassia Alata extract provides great comfort to the skin by reducing redness and itching.
AQUA (WATER), CAPRYLIC/CAPRIC TRIGLYCERIDE, HELIANTHUS ANNUUS HYBRID OIL*, GLYCERIN, OLEIC/LINOLEIC/LINOLENIC POLYGLYCERIDES, BUTYROSPERMUM PARKII (SHEA) BUTTER*, HYDROGENATED OLIVE OIL CAPRYLYL ESTERS, CETEARYL ALCOHOL , HYDROGENATED STARCH HYDROLYSATE, STEARYL ALCOHOL, XYLITYLGLUCOSIDE, HELIANTHUS ANNUUS SEED OIL, CASSIA ALATA LEAF EXTRACT, MALVA SYLVESTRIS LEAF EXTRACT*, ROSMARINUS OFFICINALIS LEAF EXTRACT, ANHYDROXYLITOL, GLYCERYL HYDROXY STEARATE, BEHENYL ALCOHOL, CETEARYL GLUCOSIDE ,SODIUM BENZOATE, PARFUM (FRAGRANCE), GLUCOSE, XYLITOL, POTASSIUM SORBATE, XANTHAN GUM, MALTODEXTRIN, CITRIC ACID.

* Ingredients from Organic Agriculture
99% of the total ingredients are of natural origin.
10% of the total ingredients are from Organic Agriculture.
Ecological and Organic Cosmetics certified by ECOCERT Greenlife according to the ECOCERT standard available oncosmetiques.ecocert.com.

INCI list decrypted
AQUA (WATER) : water
CAPRYLIC/CAPRIC TRIGLYCERIDE : maintains the skin in good condition
HELIANTHUS ANNUUS HYBRID OIL : sunflower oil
GLYCERIN : glycerin
OLEIC/LINOLEIC/LINOLENIC POLYGLYCERIDES : softens and smoothes the skin
BUTYROSPERMUM PARKII (SHEA) BUTTER : shea butter
HYDROGENATED OLIVE OIL CAPRYLYL ESTERS: produces a continuous film on the skin
CETEARYL ALCOHOL : softens and smoothes the skin
HYDROGENATED STARCH HYDROLYSATE: retains water in products
STEARYL ALCOHOL: softens and smoothes the skin
XYLITYLGLUCOSIDE: retains water in products
HELIANTHUS ANNUUS SEED OIL : sunflower oil
CASSIA ALATA LEAF EXTRACT: cassia alata extract
MALVA SYLVESTRIS LEAF EXTRACT: mallow extract
ROSMARINUS OFFICINALIS LEAF EXTRACT: rosemary extract
ANHYDROXYLITOL : keeps the skin in good condition
GLYCERYL HYDROXY STEARATE: softens and smoothes the skin
BEHENYL ALCOHOL: softens and smoothes the skin
CETEARYL GLUCOSIDE: softens and smoothes the skin
SODIUM BENZOATE: preservative
PARFUM (FRAGRANCE) : natural fragrance
GLUCOSE, XYLITOL : Maintains the skin in good condition and retains water in the products
POTASSIUM SORBATE : preservative
XANTHAN GUM : viscosity control agent
MALTODEXTRIN : maltodextrin
CITRIC ACID: stabilizes the pH of cosmetics