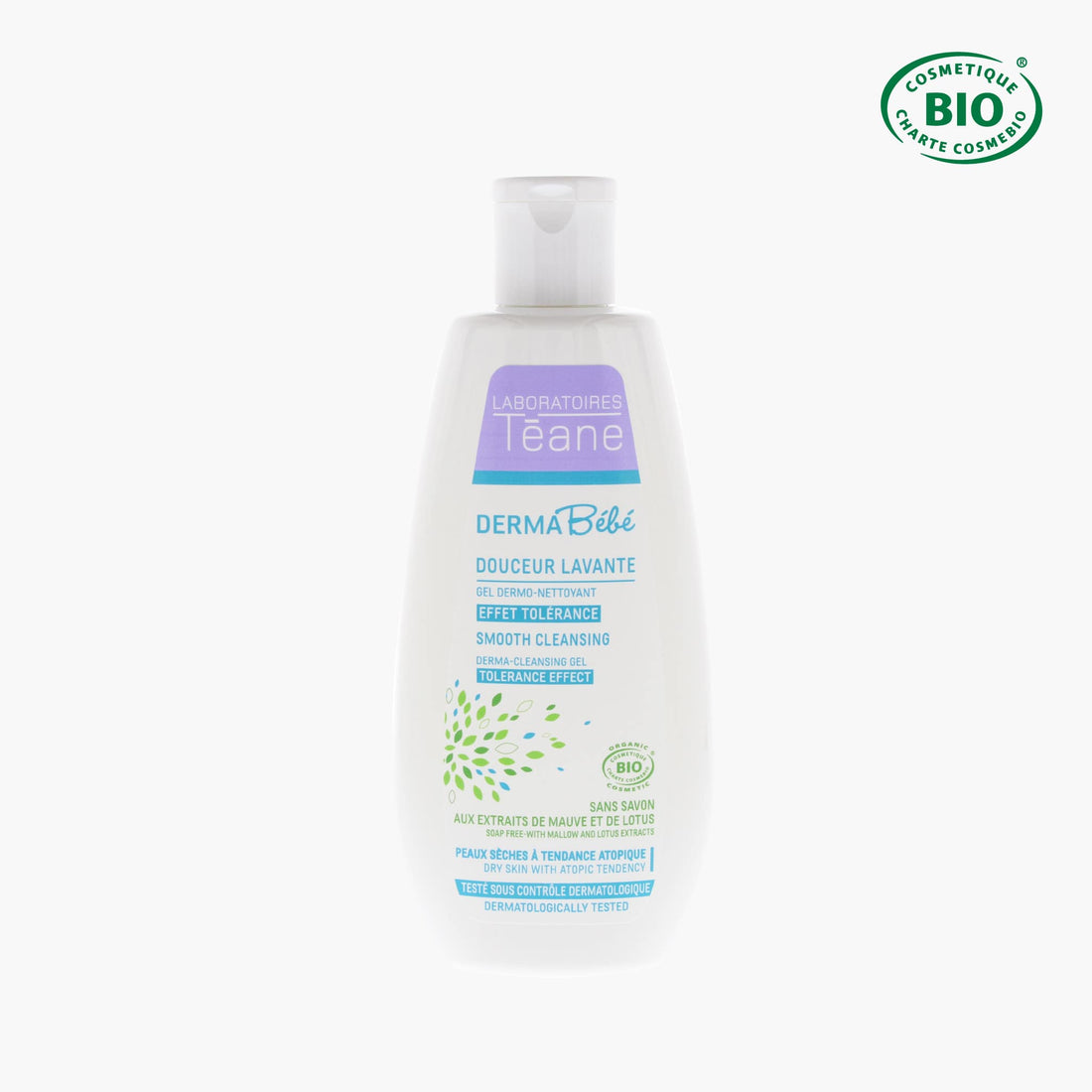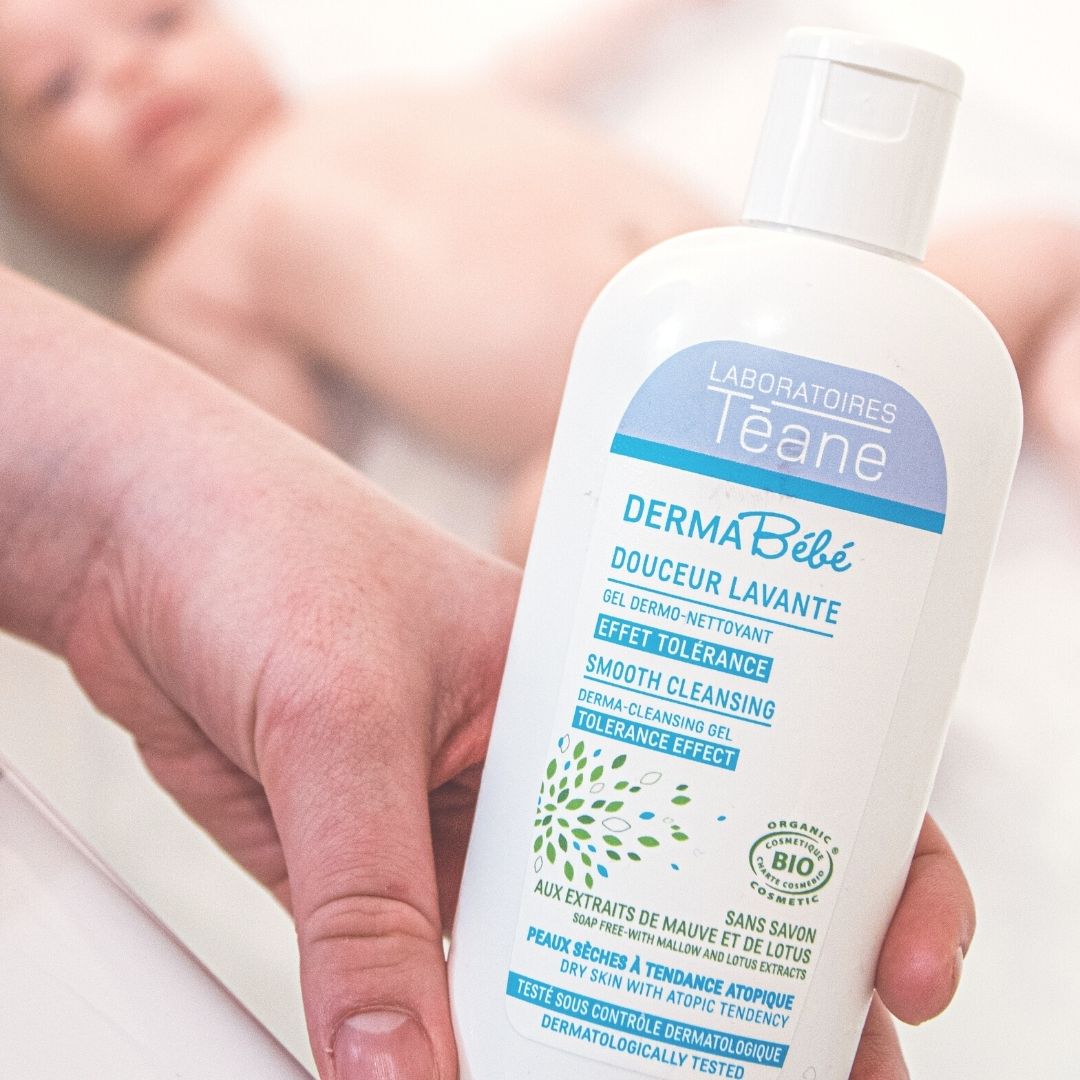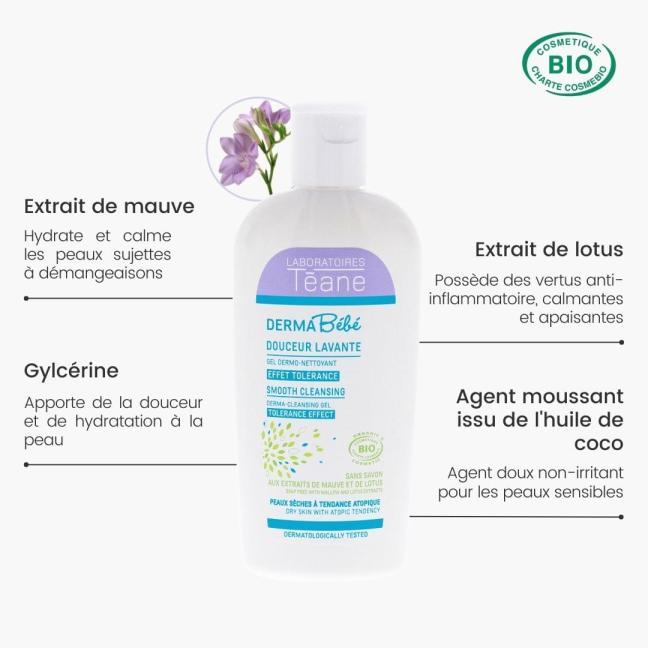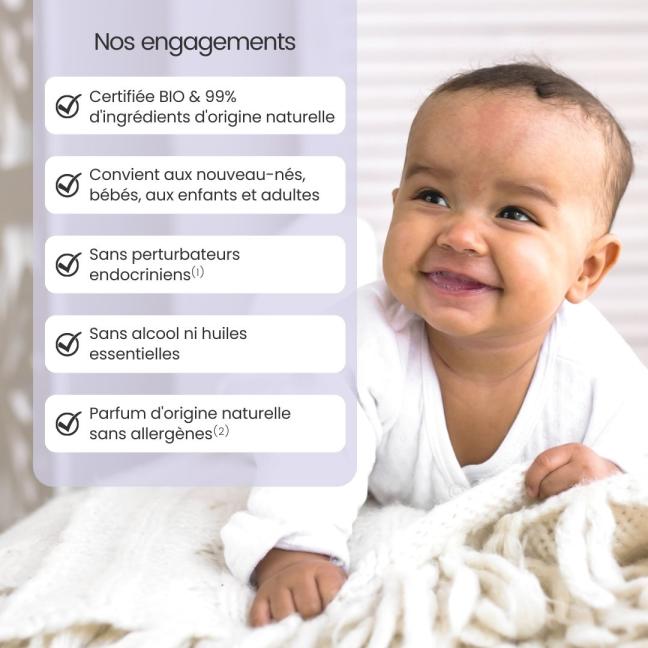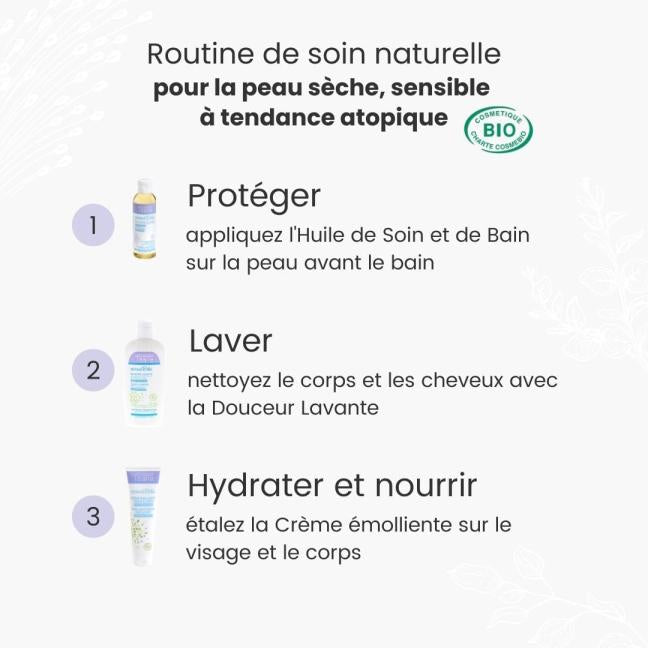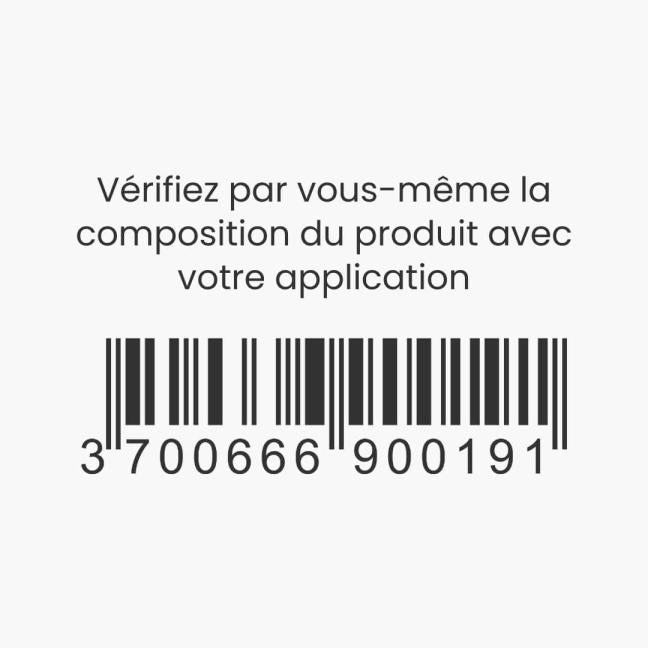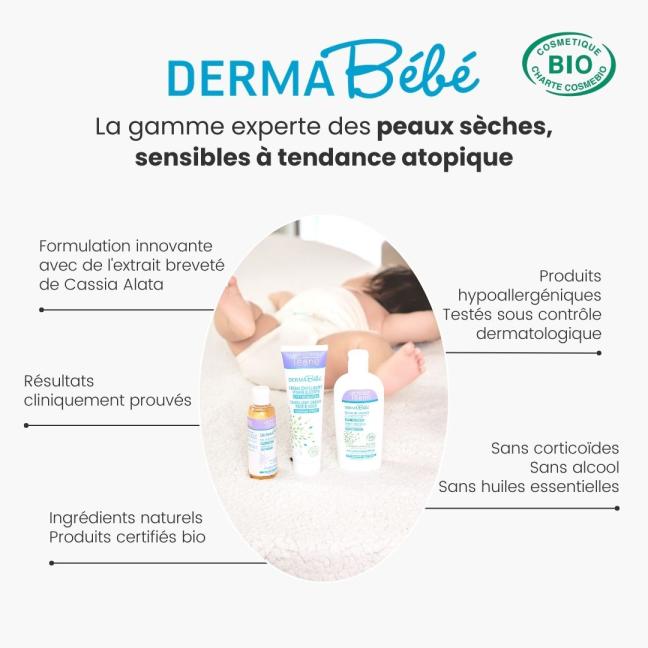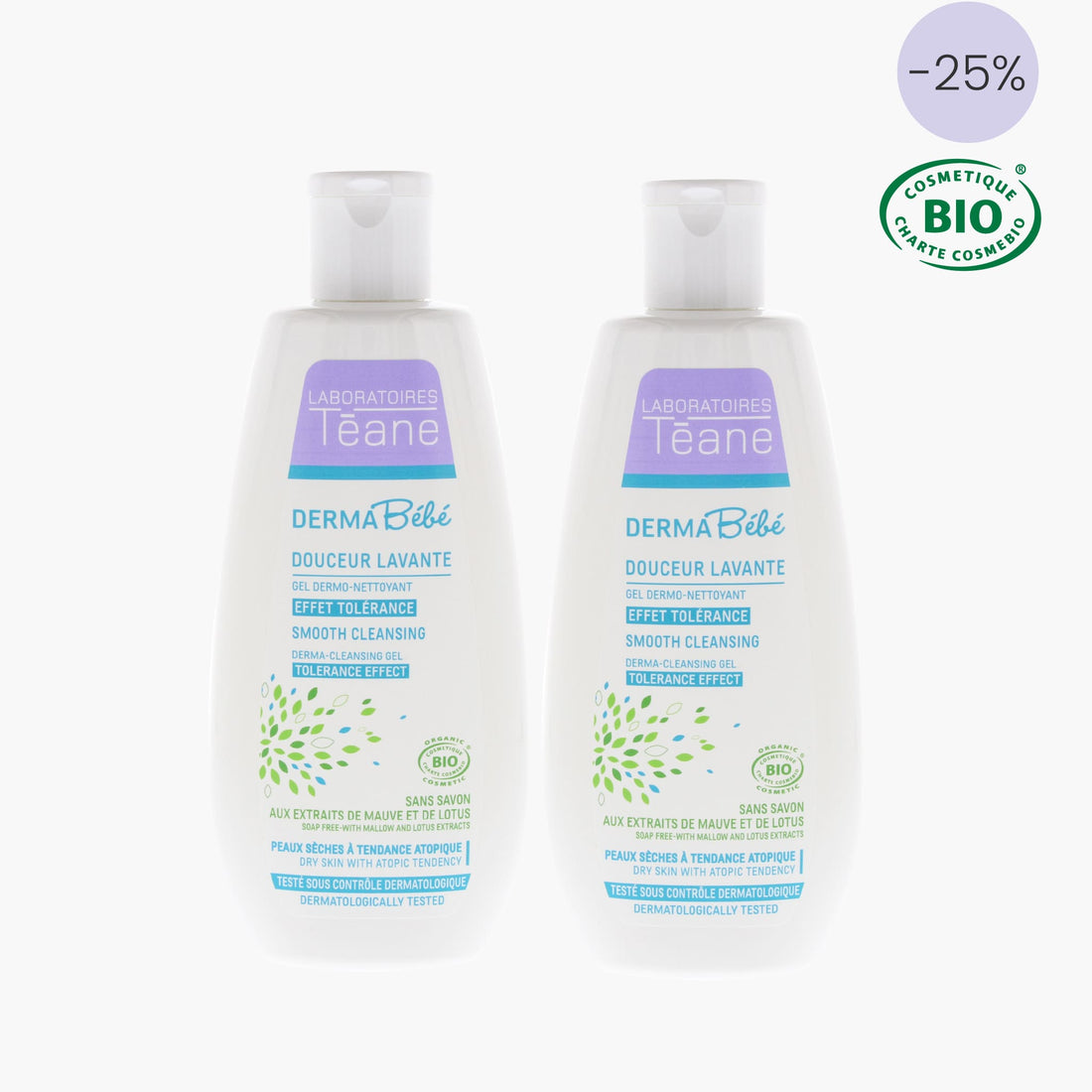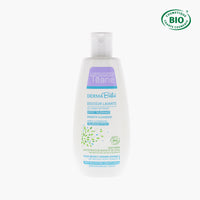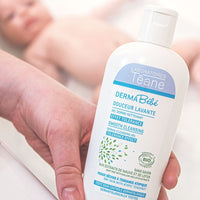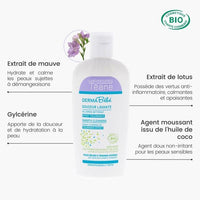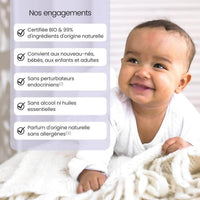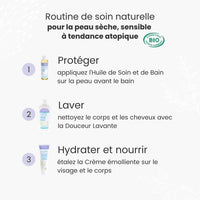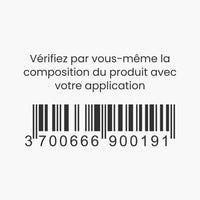 Cleansing gel certified organic
15,40€
15,40€
Sale

• Save
Gentle Wash certified organic is a washing gel to wash hair and body gently. It is suitable for sensitive, dry skin with a tendency to atopic eczema. Formulated without soap or irritant agent, it preserves the hydrolipidic film and prevents the cutaneous drying. When you get out of the bath, your skin is no longer tight, it is soft and soothed.
The cleansing gel was specifically developed for the dry, sensitive and atopic skin of baby. Formulated without soap, this washing gel cleans the skin delicately without attacking it, nor to dry it. In addition to cleaning gently, the skin is soothed thanks to the 100% natural active ingredients. The extract of Organic Mallow, with protective and softening properties, is associated with the extract of Organic Lotus, for its soothing virtues, and with glycerin to moisturize and reduce tightness when leaving the bath. We added a soft tensio-active from the coconut.
● Cleanses skin, scalp and hair
● Preserves the skin barrier
● Anti-itching, anti-redness and anti-scratching
For babies, children and adults with dry, sensitive skin prone to atopic eczema.
From birth.
● Organic mallow extract
● Organic Lotus extract
● Glycerin
● Soft foaming agent from Coconut oil
Certified organic care by ECOCERT
99% of ingredients of natural origin
High tolerance formula
No endocrine disruptors (1)
Contains no alcohol, no essential oils
Natural fragrance without allergens (2)
Products made in France

(1) The product is formulated without endocrine disruptors or substances suspected of being endocrine disruptors, recognized as carcinogenic, mutagenic or toxic.
(2) The product does not contain any allergens listed among the 26 allergenic substances of Annex III of the Cosmetic Regulation 1223/2009.
Shipping costs* :
- 3,99€ in relai point
- from 4,99€ at home
- Free from 55€ of purchase
* In Metropolitan France
Shipping :
48 hours from Monday to Friday
Return possible within 14 days after receipt of the order
Read more
Protect the skin during the bath with
How to use the hair and body cleansing gel?
Lather the gel cleanser in your hands. Then apply the gel to baby's wet hair and body.
Gently rinse baby's skin thoroughly. Finally, pat baby's skin dry with a clean towel, not forgetting the little folds.
To protect against the drying effects of water and limescale during bath time, apply our certified organic baby bath and body oil before bathing.
Areas of application : Scalp, body & seat
Skin type: all skin types including dry, sensitive skin with eczematous tendency
For : Newborn, baby, child, adult
Texture : Foaming gel
Odor: Light fragrance
Developed for Laboratoires Téane for a fragrance without allergens
Contra-indications: do not apply this product on oozing lesions. External use only. Avoid contact with the eyes.
On répond à vos questions
Yes... this cleansing gel can be used to wash the body, scalp and hair of your baby from birth.
Of course! It is known that there is often a favorable genetic ground. If you or another member of the family suffers from skin prone to atopic eczema, the cleansing gel will be your best ally for daily cleansing.
This washing gel is appropriate for the most sensitive skins like the very dry skins, sensitive with atopic tendency of the babies and the children.

Yes, this cleansing gel is soap-free to avoid tightness and prevent skin dryness.
Yes...you'll enjoy its foaming power and light fragrance! The fragrance is of natural origin and was developed for our laboratory to avoid the presence of allergens(2).
Sa formule haute tolérance, sa composition naturelle et son absence d'allergènes ou d'alcool font de ce produit un lavant idéal pour les peaux des tout-petits. Le parfum présent de ce produit est hypoallergénique. Les Laboratoires Téane travaillent en concertation avec un expert toxicologue indépendant pour valider les ingrédients qui vont être utilisés dans la formulation de tous les produits.
Ingredients and their benefits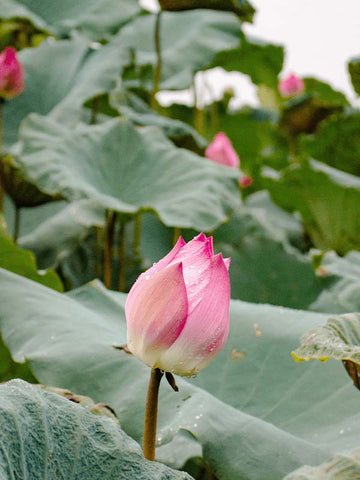 Calms and soothes irritations
Organic Mallow extract soothes and calms irritations. This plant is appreciated by dry skin with an atopic tendency.
In Ayurvedic medicine, this plant is used for its emollient and soothing properties. It is particularly suitable for dry, sensitive skin with an atopic tendency to calm and soothe skin irritations.
Anti-inflammatory
Organic lotus extract has anti-inflammatory properties.
Moisturizer
Glycerin provides softness and moisture to the skin.
Foaming and washing agent
The dermo-cleansing gel contains a gentle foaming agent derived from coconut oil to avoid irritating or drying the skin.
INCI list
AQUA (AQUA), DECYL GLUCOSIDE, NELUMBO NUCIFERA FLOWER WATER*, DIGLYCERIN, COCAMIDOPROPYL BETAINE, SODIUM CHLORIDE, MALVA SYLVESTRIS LEAF EXTRACT*, XANTHAN GUM, PARFUM (FRAGRANCE), SODIUM BENZOATE, ACACIA SENEGAL GUM, POTASSIUM SORBATE, CITRIC ACID.

*Ingredients from Organic Agriculture
99% of the total ingredients are of natural origin.
10% of the total ingredients are from Organic Agriculture.

Ecological and Organic Cosmetics certified by ECOCERT Greenlife according to the ECOCERT standard available on cosmetiques.ecocert.com.

INCI list decrypted
AQUA : water
DECYL GLUCOSIDE : cleaning agent
NELUMBO NUCIFERA : lotus extract
DIGLYCERIN : maintains the water content of a cosmetic on the skin and keeps the skin in good condition
COCAMIDOPROPYL BETAINE: Improves the quality of the foam produced by increasing one or more of the following properties: volume, texture and/or stability
SODIUM CHLORIDE : Increases or decreases the viscosity of cosmetics
MALVA SYLVESTRIS LEAF EXTRACT : Mallow extract
XANTHAN GUM : increases or decreases the viscosity of cosmetics
PARFUM (FRAGRANCE) : natural fragrance
SODIUM BENZOATE : preservative, inhibits the development of micro-organisms in cosmetic products
ACACIA SENEGAL GUM: gum arabic
POTASSIUM SORBATE: preservative, inhibits the development of micro-organisms in cosmetic products
CITRIC ACID: stabilizes the pH of cosmetics